TrueAero is a mid-to-end-of-life diversified aviation platform that offers investment strategies, portfolio management, and leasing/trading services to a global customer base. They have corporate offices in Florida and Texas with team members across the Americas, Europe, and Asia, and have been using AvSight since 2019. We recently had an opportunity to talk with several members of the TrueAero team about the impact that transitioning to AvSight had on their business.
The Need to Modernize
The AvSight implementation project was spearheaded by Senior Director of Business Intelligence, Nicole Ellis, not long after she joined the TrueAero team. Ellis joined TrueAero in 2017, having spent much of her career leading software implementations for global and Fortune 500 companies. She was tasked with helping TrueAero define a corporate strategy, and analyze and improve company-wide operations. Coming from a tech background, she was shocked that anindustry as complex as aviation was dominated by antiquated software.
Sharing her initial reaction to the ERP then in place, Ellis said "Coming from software, all I knew was modern technology. Our ERP at the time may as well have been hieroglyphics. At that point, I knew digitization would be a huge priority. It was obvious that we needed to move to the cloud. But aviation is such a unique business – you can't simply cut and paste a typical process or software system and expect it to work in our world.".
"Aviation is such a unique business – you can't simply cut and paste a typical process or software system and expect it to work in our world"
A new ERP project was not something that TrueAero was planning to take on, but when they saw AvSight, the team was blown away. They were impressed by AvSight's well thought out aviation specific design and its powerful Salesforce foundation. TrueAero began the implementation process within a couple of months, and they went live on the system about six months after the initial discovery call. Since implementing AvSight, they have continually seen improvements in processes and communication throughout the company.
Improved Communication
Transitioning to AvSight, has led to a tremendous shift in the availability of information. "With our previous ERP system, the transfer of information was almost impossible. Keeping information clean and accurate was a real challenge – it was never available in real time – and we were all stuck in the office." shared Ellis. "Now everyone has access to the same data regardless of where they're working from. It's so lucky that we made these changes before COVID. There would have been no way for us to work remotely if we hadn't transitioned to cloud technologies when we did.".
When asked what they enjoy most about AvSight, reporting is the clear winner among TrueAero employees, with 100% of users finding it to be moderately or much faster than their previous ERP system. AvSight's drag and drop reporting empowers employees to find the data that they need to make strategic decisions.
A Senior Data Analyst at TrueAero commented "Reporting using AvSight is incredible – it's just drag and drop. Using the reporting product within our old ERP was much less user friendly and created a barrier to everyday users being able to seek out their own answers quickly.".
"With [our previous system], you needed someone who understood SQL to pull any data or run any report. Users couldn't even filter or add columns or fields – you needed an IT person for that." explained Ellis. "With AvSight and Salesforce, it's all available on screen and anyone can create or edit reports.".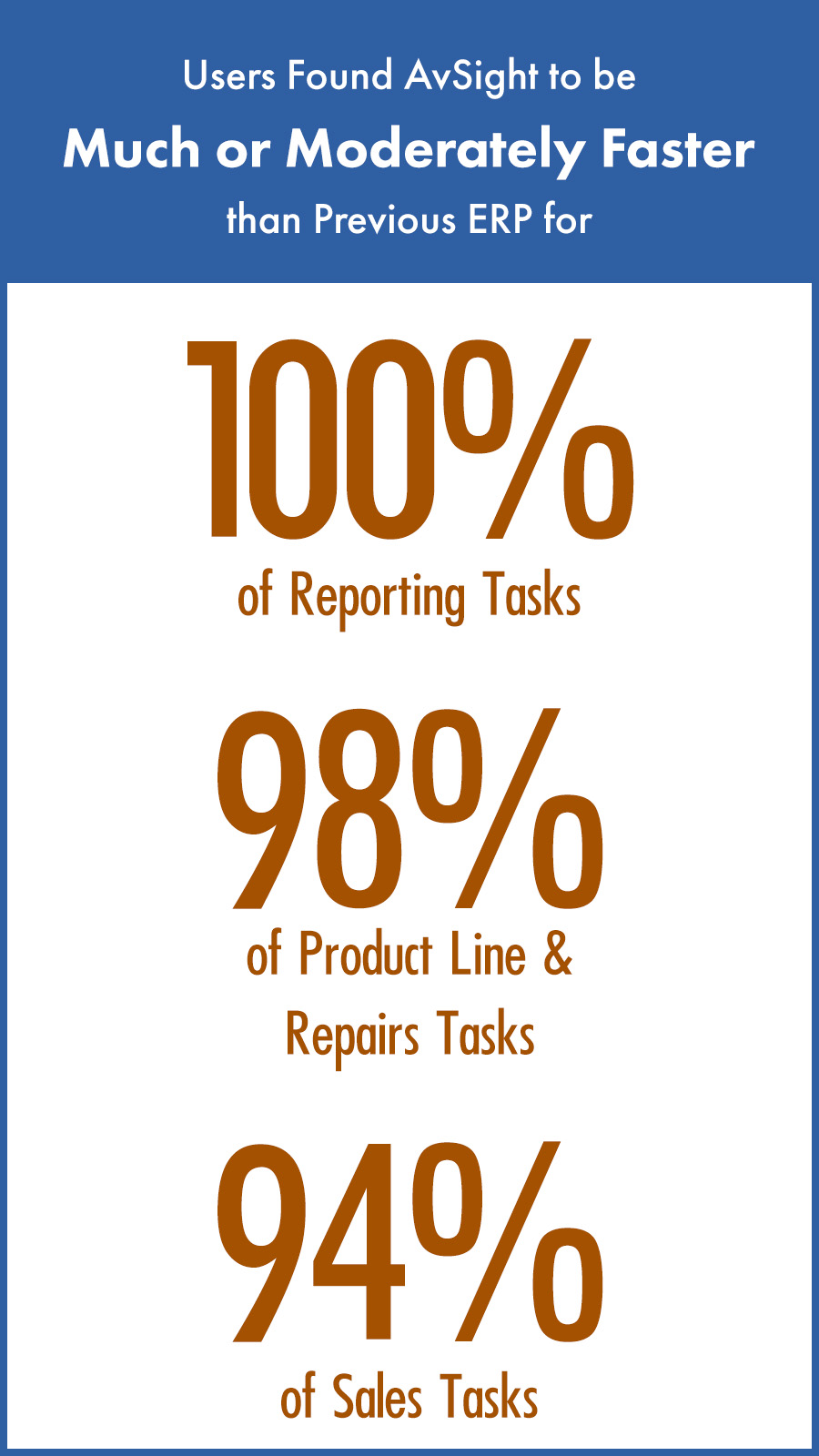 These improvements have been noted at all levels of the business. Commenting on the impact, CEO, Karl Drusch, said "From an administration perspective, the reporting and data available with AvSight are game-changing.".
"From an administration perspective, the reporting and data available with AvSight are game changing."
Smarter Workflows
TrueAero users have noticed that the way data is organized in AvSight allows for improved efficiency across the board. Related objects link data from across the system so that just by accessing an account record, part number, work order, or other object, users can easily drill down into details without needing to navigate to a different area. "I appreciate how everything is linked together and all notes can be kept in the same place." said one user.
TrueAero's sales teams, in particular, have noticed improvement, with 94% of users saying that specific transactions were moderately or much faster in AvSight than they had been in the previous system. According to Diarmuid Ahern, Sales Director – Europe and Middle East, "Avsight is worlds apart from any of the platforms I have used in the past. I can access FMV, repair pricing, and last sales within just two clicks.".
Discussing the challenges of the previous system, a TrueAero Sales Manager said, "Attaching trace paperwork was always an issue. With AvSight, paperwork is a click and drag away. I also enjoy the ease of navigating through the system. AvSight is very user friendly.".
A former Senior Sales Manager, explained that what he enjoys most about working with AvSight is "the availability of information without having to switch from screen to screen.".
"AvSight visibility is worlds apart from any of the platforms that I have used in the past."
Matt Parker, Director of Business Development and Sales added, "Tracking sales orders, open RO's, notes and updates, account management, and activity within accounts were all much more difficult in [our previous system].".
A Senior Sales Analyst estimated that improvements in workflow for just one task – tracing part
provenance – saves him at least an hour a day and more than 20 hours over the course of a month.
One thing that sets AvSight apart from the competition is its flexibility. Rather than opting for a one-size-fits-all approach, AvSight implementation teams configure the platform to meet the unique needs of each client. But the flexibility doesn't stop there – the system is designed so that customizations and and integrations are simple to incorporate.
Ellis explained, "AvSight allows us to be agile in processes. If we need to add a feature or change a process, we can. We also leverage a number of Salesforce integrations, allowing us to make
improvements on the fly.".
Experience AvSight for Yourself
Request a demo to see how our next generation aviation platform can give your company a competitive edge.
Request A Demo