Close More Deals with Account 360
If you work in sales, the chances are good that you've faced this dilemma: you have a huge stack of inquiries, many of which are for companies you're not familiar with, and limited time. How do you decide where to start? Should you dig through customer data to figure out which prospects have the best quote to sales ratio? Or since that would probably take as long as preparing a quote, start working through your list indiscriminately and hope that you make it to your most valuable customers. If both options sound awful to you, we agree. That's why AvSight has created a new option – Account 360.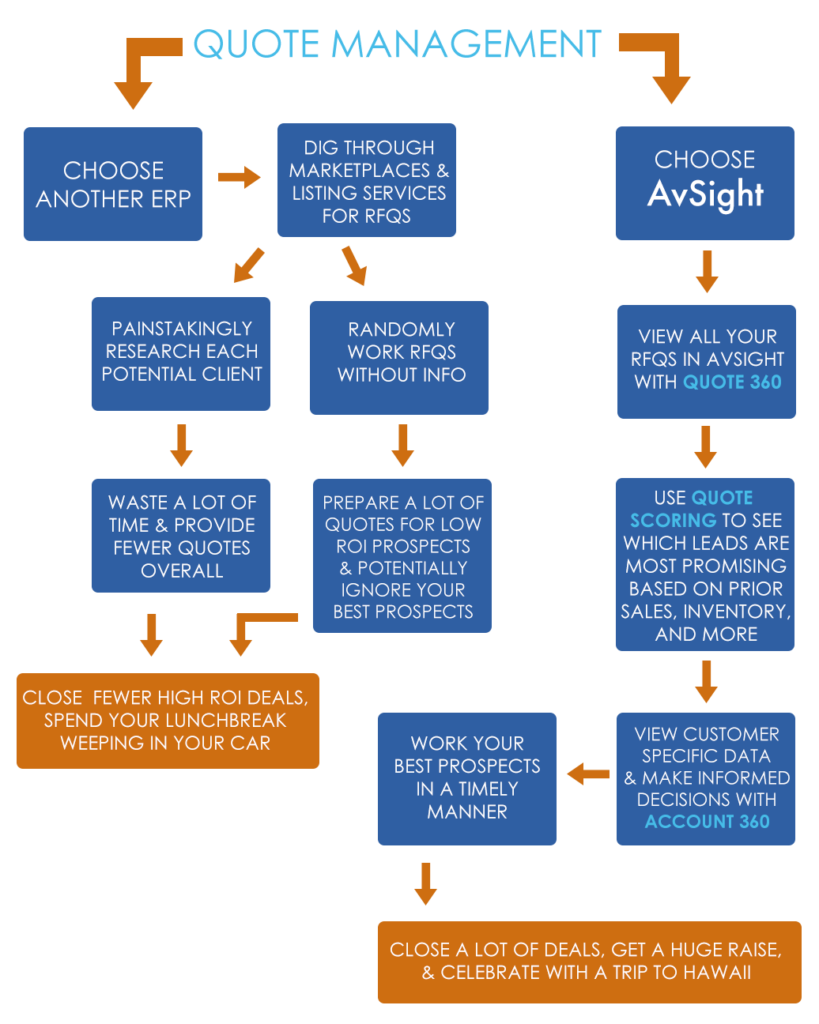 Bottom line – if you like closing deals, raises, and trips to Hawaii, choose AvSight. If you prefer low sales numbers and sadness, go with another ERP.
Account 360
Account 360 is an in app module that makes key customer and vendor data readily available, right inside your work space. Whether you're preparing a quote, working on a PO, or just about anything else, your key data is available at a glance. When used alongside Quote 360, our integrated quote scoring module, Account 360 gives you everything you need to make informed decisions about where to allocate your time.

Account 360 data can automatically display within a workspace, such as quoting.
Metrics
Account 360 works by automatically calculating set metrics from the information that is already stored in your system. Think of it as an assistant who is always ready with with the reports you need. These metrics are then displayed within your workspace. Metrics can easily be created for just about anything you can think of – no IT department or special skills required.
Metrics can be created for almost any data set.
Account 360 for Sales
Many of our customers use Account 360 to display info such as quote to sales ratio, amount sold, and open quotes. There's no limit to the metrics you can create, and metrics are accessible to all users. That means that your whole sales team can benefit from metrics created by one user – no redundant work. Each user can customize their workspace to display the metrics that are valuable to them.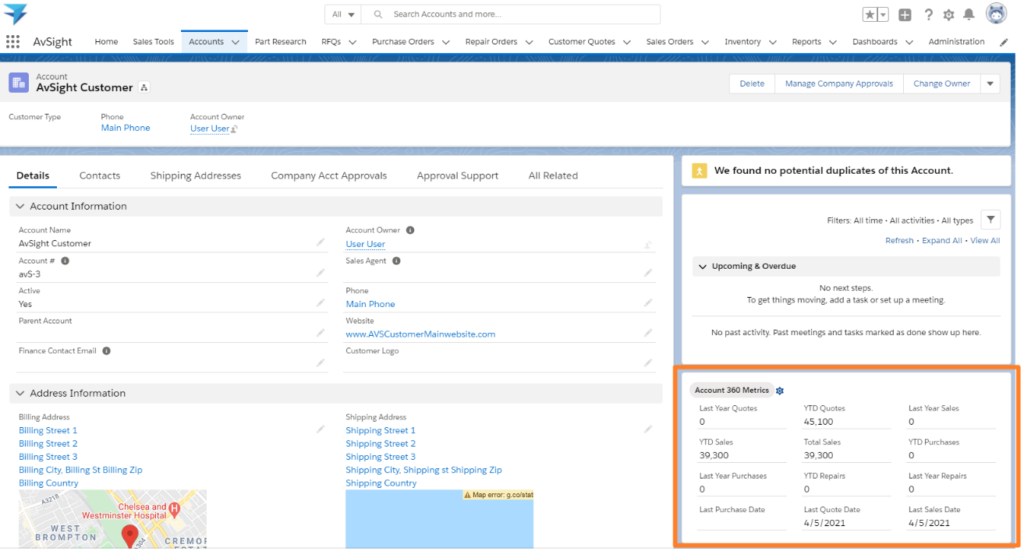 View all relevant customer data in one place.
Account 360 for Operations
Account 360 is a powerful tool for operations, as well. Vendor details such as vendor terms, year-to-date purchases, and purchases from the previous year can be viewed while working on purchase orders or finance.

Manage vendors effectively by using Account 360 within your PO screen.
We're excited to see how this new module helps our customers focus on their most promising prospects and boosts their profitability. To see what AvSight can do for you, schedule a free demo.
Experience AvSight for Yourself
Request a demo to see how our next generation aviation platform can give your company a competitive edge.
Request A Demo