Intuitive Mobile Access for Sales
As companies continue to expand globally and embrace non-traditional schedules, often outside of the traditional office, portability has become key to business success. This is especially true in the world of sales. Being able to work efficiently on the road can be crucial to closing deals. AvSight understands this challenge well. That's why we've designed our mobile app to be as simple and easy-to-use as our desktop platform.
Mobile First Design
Being able to access information on mobile devices is of little value if it's difficult to read and interact with. AvSight's mobile app isn't just our desktop platform crammed onto a smaller screen. It features an intuitive layout designed especially for mobile devices. Below are just a few of our most popular features for sales mobility.
Quote on the Go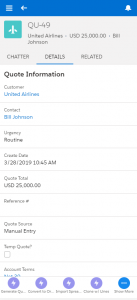 Our quote builder allows you to easily create quotes right from your mobile device. This enables you to provide quotes to clients on the spot, rather than having to wait until you're back in the office. Having a faster turnaround often means closing more deals in less time.
Access Reporting in Minutes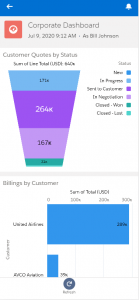 When you've only got 20 minutes between flights to check in with clients, knowing your priorities is crucial. Our mobile app allows you to easily view your dashboards without having to pull out your laptop and connect to wifi. Many of our users also find having this data readily available cuts down on the preparation needed for sales meetings.
Check Inventory in Real Time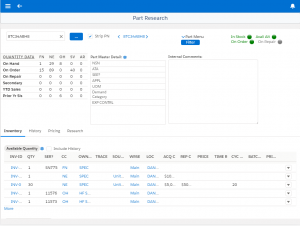 No more calling around to make sure items are in stock. Our cloud-based platform integrates inventory management and sales functions in real time. With our user friendly mobile app, you can access this info and communicate it to your clients easily from anywhere.
Experience AvSight for Yourself
Request a demo to see how our next generation aviation platform can give your company a competitive edge.
Request A Demo