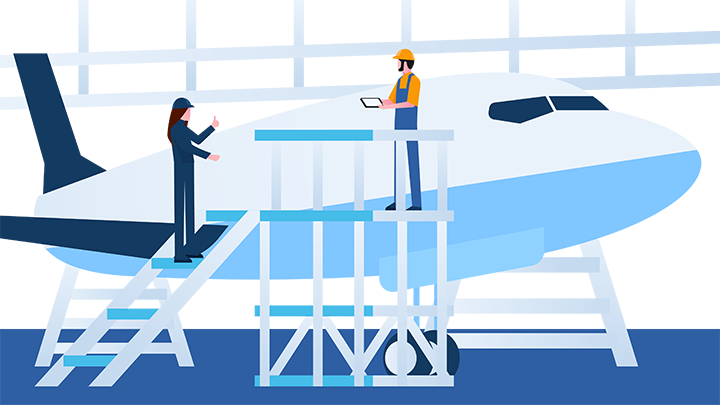 You've probably heard the phrase, "You can have it cheap, fast, or good. Pick any two." Applied to aviation maintenance, how can you maintain quick turnaround time, perform accurate and complete work, and stay in compliance? With AvSight, you no longer have to "pick any two." Mobile Technician ensures there are no compromises in your security, accuracy, or speed.
Mobile Technician is a group of features, included with AvSight, that allows techs to work quickly, paperlessly, and accurately right from a mobile device.
True Mobile Workflow
Techs can clock in and out to jobs, request and consume parts, check out tools, and document non-routines from any mobile device. Photos can even be captured and uploaded from a mobile device for easy documentation.
Audit trails are automatically created for all processes – even down to serial number tracking for individual tools – saving a lot of time and headaches if a tool falls out of calibration.
Skill Sets
Individual skill sets can be turned on or off for each technician, ensuring that work is being completed by properly qualified technicians. If a technician is not qualified to perform a certain task, it is not even visible within their account. Pin code requirements prevent accidental access from another tech's device.
Compliance
How often have you completed work on a part, but been held up by documentation? Built in safeguards prevent last minute scrambling for paperwork, finding signatures, and sorting through duplicates. As parts are added or work is completed, your package is updated every step of the way. If a necessary piece of information or signature is missing, AvSight will prompt you to correct the issue before moving on.
This greatly simplifies the quality assurance process – eliminating bottlenecks and making your 8130 closer than ever.
Resource Management
Real time tracking gives you true visibility into your business processes. While on-going labor and performance metric tracking help you maintain a high ROI and schedule resources more efficiently.
Want to see how AvSight can improve your turn around time without sacrificing efficiency? Schedule a free demo today.
Experience AvSight for Yourself
Request a demo to see how our next generation aviation platform can give your company a competitive edge.
Request A Demo