Fulfilling government solicitations is a great opportunity to expand your business, but let's face it – digging through government databases is no picnic. Govgistics has simplified this process by compiling all solicitations in one database. But with thousands of requests being added daily, finding the opportunities that are most valuable to your business can be like searching for a needle in a haystack.
In light of this, aviation suppliers are faced with a tough decision – spend valuable time and resources digging through solicitations and manually cross checking them against your inventory or leave potentially lucrative opportunities sitting on the table. AvSight's integration with Govgistics offers users a smart alternative.
Every evening AvSight imports solicitations from Govgistics, allowing you to access opportunities and inventory in one place. Each request is then assigned a SOLICITATION SCORE based on the criteria that are most important to your company. For example, solicitations for items that you have in stock and those with higher potential profit margins can be assigned higher Solicitation Scores. The scoring process is instantaneous, allowing your team to work the most promising opportunities first.

AvSight also allows you to run reports against solicitation data. Is there a high demand item that you aren't keeping in stock? With traditional methods, you have no way of knowing how many opportunities you're missing. Reporting can reveal frequently requested parts that aren't in your inventory, allowing you to make educated decisions about which items you should be stocking.
You've submitted your quotes, now what? AvSight also imports award data from Govgistics, allowing you to see all of your awards in one place. AvSight can even send you notifications when a contract is awarded.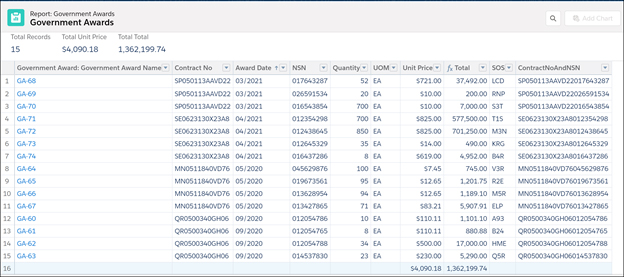 Experience AvSight for Yourself
Request a demo to see how our next generation aviation platform can give your company a competitive edge.
Request A Demo